The parts are transferred through the ultrasonic cleaning section by being held between the top and bottom net. In ultrasonic section, the cavitation caused by wave from the top and bottom, make important role in the process oil and particle cleanings. The cavitation power is proven in the finger print cleaning methods such as the use of Freon.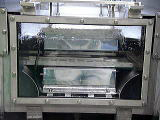 The dry process has been said that it is the most difficult part in the water cleaning system. However, this equipment dries the parts completely without the problems caused by the traditional water cleaning equipment. The solution is the use of high pressure blow to blow off the water on the parts without drying, and the engineered nozzle, which made the high pressure blow possible.
Furthermore, the electric power consumption fee will be one tenth of traditional dry system due to the use of high pressure below.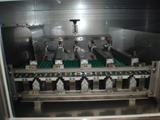 DIW (deionized water) is used in the pre-shower and ultrasonic cleaning sections. The water is filtered 6 to 10 times in one hour, so the water's cleanness is kept as the original level even in the continuous cleaning process.
Therefore, there is no need to have additional water recycle unit.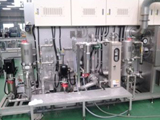 Cleaning and drying with water and air


We don't use solvents, surfactants) low cost running and high safety.

Water recycle system


It is a pollution free system.

Ultrasonic cleaning from the top and bottom


Damage free and high efficiency

Instant dry with air blow


Leaves no water marks

Net conveyor system


Thin plate can be cleaned, small parts in tray or case can be put on conveyer as well.

Highly effective at removing fingerprint by using only water


By using ultrasonic, the cleaning ability of AQUAPASS is the highest among the others.

Particles remove and remaining oil effectively


Cleaning system which the removed particles never stick to the parts again.

No watermarks on the surface and no rust resist by clean dry process


Instant dry process, leaves no evaporation and no battery corrosion

Possible to use any kind of tray to put small parts all through the process


It can use tray during washing and dry process.

It's good at cleaning printed writing board


It can clean up from small piece to big work size put on the conveyer net directly without tray.

Swing water jet cleaning holes and surface without blanks


(300 swing/min.  0.5×2Mpa High pressure jet shower.)

Ability of horizontal conveyer line by swing jet shower

It is higher effective to combine with AQUAPASS

Small diameter via hole can be cleaned

It can remove sub-micron residual material by high pressure jet shower

No erosion at cleaning technology

Combination with AQUAPASS for additional process is more efficient cleaning

Application dry technology of AQUAPASS